How Stravinsky's Rite of Spring has shaped 100 years of music
Source: George Benjamin
http://tinyurl.com/pl6xhxr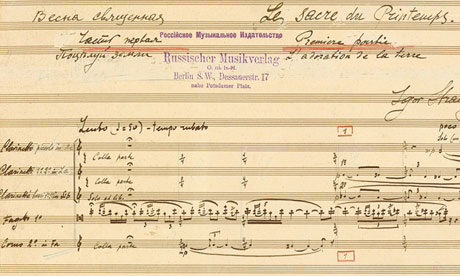 A section of a facsimile of Stravinsky's manuscript for Rite of Spring, which was published this year to mark the centenary
The Rite of Spring was a revolutionary work for a revolutionary time. Its first performance in Paris, exactly 100 years ago on Wednesday, was a key moment in cultural history – a tumultuous scandal.
Written on the eve of the first world war and the Russian revolution, the piece is the emblem of an era of great scientific, artistic and intellectual ferment. No composer since can avoid the shadow of this great icon of the 20th century, and score after score by modern masters would be unthinkable without its model.
The Rite of Spring has survived many trials in its first 100 years, not excluding the notorious premiere, during which Nijinsky's provocative choreography elicited such a volume of abuse that the music itself was frequently inaudible. Initial performances – even Stravinsky's own – of this immensely complex score were often on the edge of collapse, but the piece is now part of the international orchestral repertoire and the greatest risk it faces today, paradoxically, is routine renditions which make a work which should shock seem safe and easy.
And this score did intend to shock. Its savage violence confronted head-on the aesthetics of impressionism – then at the apogee of Parisian musical fashion – just as the razor-sharp editing between phrases subverted the smooth, seamless flow of the Germanic symphonic tradition with pitiless efficacy.