I.D.E.A. Breaks Ground on a New Model of Art District
Yesterday, a new model of art and culture district broke ground in San Diego on the first phase of an unusual new concept.
With no National Endowment of the Arts (NEA) grant or Art Place award but with funding from private investors, I.D.E.A.( for Innovation, Design, Education and Art) began designing I.D.E.A., an art and culture district over two years ago.
Covering 35 city blocks in East Village, San Diego, the district is more than performance spaces and art galleries, but importantly, a place for new thinking about the creative economy … and an incubator for artists and designers. It's an IDEA for our time as it represents another powerful model for cities struggling to get on the global information highway to meet the challenge of the new economy, an economy demanding creativity and innovation. It's an IDEA for reinventing the landscape of the city.
With a vision of the city's needs over the next century, co-founders Pete Garcia and David Malmuth created a vision that transcends the architecture and land use of today to what is needed now and for a future in which design is paramount. In their words, they ask: "Why has the concept of an urban mixed-use district driven by a 21st century Innovation and Design jobs cluster, nourished by Educational institutions and enriched by the Arts caught the imagination of San Diego business and community leaders?" Putting it to those invited to the groundbreaking, they argued, it is:
• A future that will see breakthrough products, services, and experiences at the confluence of design and technology

• A future that will be dependent on producing high-paying jobs to attract and retain young, creative and highly educated citizens to ensure our competitive position moving forward

• A future that will witness the increasing importance of cities as the major engines of innovative ideas and businesses

• And, a future enriched by art, entertainment and recreation, the hallmarks of all great livable and vibrant cities

• I.D.E.A. District is our response to this future. As long time San Diego residents, our overarching goal is to enable this vision to become a reality and to unleash its potential to drive new businesses and new jobs in our region.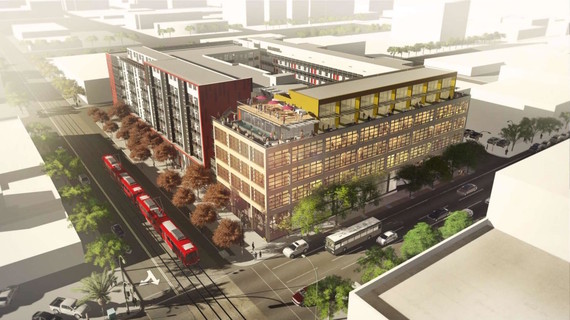 I.D.E.A has housing units and offices catering, obviously, to people who live and work in the area but open to anyone who wants the amenities of an arts district and a highly sustainable, livable community. In fact, as the founder and their developer partners believe, it will be a Mecca for "scientists, students, engineers, artists, designers and architects, whose economic function and personal passion are to create new ideas, new technology, and new creative content."
I.D.E.A. is also green and touts its plans for "native vegetation, green open space, and permeable pavement that filters storm water naturally and prevents contaminated runoff from entering the San Diego Bay. Forward-thinking transit connections include ample bicycle racks and storage throughout the district, innovative bike and car-sharing programs, and access to various bus and light rail connections. A rubber-tired circular shuttle reduces the number of car trips needed for workers, residents, and visitors."
I.D.E.A. is also high tech–from the best in broadband to the latest in electronic services. It plans to be a test bed for the "Internet of Things"–ushering in the smart and creative city.
Some cities are putting in place the broadband infrastructure necessary to support the new digital economy and society and looking at the Internet of Things (IoT), where everything is connected to almost every other thing, to ensure safer cities, better transportation, affordable housing and health care, energy and water consumption and more. Other cities are establishing art and cultural districts with a critical mass of art galleries, cinemas and music venues, public squares for performances, restaurants, cafes and retail shops.
Garcia and Malmuth and their partners all seem to agree that the I.D.E.A. plan will embrace both art and technology as both efforts are designed to attract, retain and nurture the creative workforce our cities need in the new economy. While the focus of most cities is art and culture districts or wiring for broadband, both are necessary to succeed.
It is becoming clear that art and culture and art and culture districts are central to ensuring the vibrant economic activity of our cities, and a whole new economy based upon creativity and innovation.
Follow John M. Eger on Twitter: www.twitter.com/jeger62